Green Park Collaborative
A Partnership to Guide Healthcare Innovation and Effectiveness

Increasing cost pressures and new models of shared risk are driving interest in evidence on the comparative effectiveness and value of new and existing drugs, treatments, and medical devices. Payers need this evidence to determine coverage, while patients, consumers, clinicians, and others need it to make better care decisions. However, life sciences companies and clinical researchers have limited information about what the evidence payers and others need. Product developers also worry that generating additional evidence may increase the cost of clinical development and impede the pace of innovation. The result: broad uncertainty about how best to develop and test new and needed interventions.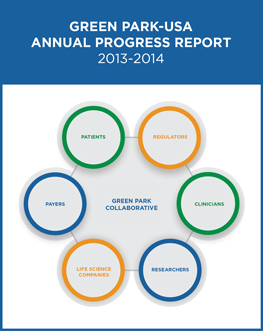 The Green Park Collaborative - USA (GPC-USA) is a multi-stakeholder forum established to address this challenge. GPC-USA develops condition and technology-specific study design recommendations to guide the generation of evidence needed to inform both clinical and payment decisions. GPC-USA includes a diverse mix of payers,life sciences companies, patients, clinicians, researchers, regulators and other stakeholders.
Working in disease-specific consortia, GPC-USA currently focuses on developing methodological standards to support oncology and diabetes research. Working groups are developing EGDs on:
Patient-centered Outcomes in Diabetes
Treatment Sequencing and Prioritization (Oncology)
Next Generation Sequencing (NGS) Tests for Cancer Diagnosis and Treatment.
For more information on our work, please read our Overview. You can also review the agendas and presentations given at our May 2013 Inaugural Meeting and November 2013 Annual Meeting.