Core Outcome Sets
Promoting the Adoption of Core Outcome Sets in Clinical Research
The focus of this project was to define an approach to working with regulators and "post regulatory decision makers" (payers, formulary committees, HTA organizations, guideline developers, etc.) to promote broader uptake of core outcome sets (COS).
Researchers are increasingly attentive to these decision makers when designing clinical studies. For this reason, securing their explicit recognition of specific COS as being influential in their decision making would create strong incentives for researchers to use those COS. This dynamic is widely recognized in the context of regulatory decision making, with clinical researchers already paying careful attention to clinical outcomes that are recognized by the FDA, EMA and other regulatory authorities.
Regulators have defined mechanisms to review, approve, and communicate preferred outcomes through guidance documents, compendia, etc. Through this project, we worked to define a parallel set of mechanisms through which PRDMs could recognize health outcomes that best inform their decision making.
Spring 2017 – Participant and sponsor recruitment
Summer 2017 – Background research and key informant interviews; develop dissemination plan
Fall 2017 – In-person stakeholder meeting; finalize, disseminate, and implement recommendations via a white paper and various publications
Winter 2017 - Finalize recommendations for white paper
Spring - 2018 - Publication of final white paper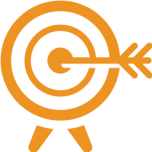 This initiative identified several benefits of greater COS adoption in clinical research, and several current hurdles to greater COS adoption. It also provided several potential strategies to promote greater COS adoption. The findings and recommendations are available in the white paper "A Multi-Pronged Strategy to Improve the Relevance, Usefulness, and Comparability of Outcomes in Clinical Research."